WdKA makes a Difference's "Brown Bag Lunch"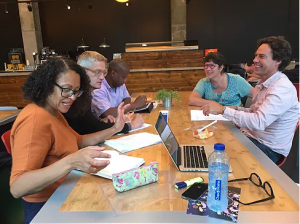 How to create a Critical Diversity Literate Art school, in which students and teachers of all cultural and ethnic backgrounds, genders, sexualities and (dis-) abilities feel treated with equity and are supported to explore their full potential?
This is the question at heart and at the same time one of the main goals of the project WdKA makes a Difference's Brown Bag Lunch (BBL). We are thus interested in rethinking pedagogy in increasingly diverse learning environments within the University of Applied Sciences in Rotterdam through various programmes and methods. Our concern as educational professionals is, that traditional academic environments are inadequate in serving this diverse body of students. In response to this concern we decided to create a space for interested teachers wherein which informal academic exchanges could occur. In September 2015 we began the first in our series of Brown Bag Lunches.
We began by discussing an article by Frank Tuitt on "Realizing a More Inclusive Pedagogy". Unlike traditional modes of instruction, proponents of inclusive pedagogical models argue that students enter the classroom as personal, political, and intellectual beings […]", and Tuitt, proposes "a variety of pedagogical models that focus on the education of the whole individual — that is, the union of the mind, body, and soul of human beings."(Tuitt 2003, 243). "Inclusive Pedagogy", is a form of Pedagogy that advocates teaching practices that embrace the whole student in the learning process. Learning and collaborating at the boundaries and intersections of different educational backgrounds and levels, disciplines, gender, ages, interests a.o. are issues recognized by all teachers in the group.
Discussed in relation to the Tuitt article on inclusive pedagogy, was the need as practitioners to feel to be self-aware, particularly asking the question who are we? and who are our students? Are we facilitators, transformative educators or providers, serving pre-framed knowledges & practices?
Narratology, one of the many models reviewed by Tuitt appeared to be a compelling method. Teachers were keen to explore how personal narratives could promote critical thinking by using students personal narratives to appraise the canons of knowledge used in our various educational settings. This method could also be used to increase awareness of wider systemic power structures. In this way the stories become de-personalised and rather represent a framework for critical reflection and possibly reveal aspects of shared experiences amongst dominant and marginalized groups in the learning environment. Thus enabling the development of (self-)critical awareness in everyday life. However, in our discussions teachers also expressed caution in engaging students in this way as it puts more pressure on teachers to manage emotional slippages and discontent among other students who may prioritize more formal knowledge streams as well as concern for the students who speak out about their experiences as part of marginalized groups. While seeing this as a valuable experiential resource for themselves and others, it can also leave students exposed and vulnerable, running the risk of becoming the spectacle for students belonging to more dominant (hence less vulnerable) groups. It is thus intrinsic to hear the dominant groups reflections and opinions in order to analyze their contributions equally. In this way students can also be encouraged to contribute to the construction of knowledge and classroom dynamics.
Teachers felt that they too could harness their own personal narratives in the learning environment, at the beginning of each new course, so that students have a better understanding of who they are. This also, allows us to think through which aspects of our identity students would perceive as important and are related to, or influence, the way we teach. Such sharing can be a form of pushing i.e. making students do connecting work whereby the diversity of the reactions the teacher's narrative elicits can be used to help students learn about competing narratives and analysis
"We are working and living in an emotional environment- but the school constructs itself as rational." (WdKA teacher at BBL, 2015) Born out of a concern with the contradictory nature of this observation, teachers are apprehensive of such approaches being perceived as replacement therapy sessions, while nevertheless agreeing that it is invaluable to raise awareness of the notion of differences in "speaking positions". An important remark during this discussion centered on the concept of emotional safety in the classroom, with teachers finding it important to distinguish between empathy and sharing on the one hand and friendship on the other. Employing these kinds of practices does not mean that "everybody leaves as friends" (WdKA teacher at BBL, 2015). A desired framing is one that prioritises transparency, in other words to address the power structures, which our Bodies re-produce in a classroom setting and to be able as professionals to discuss and reflect on them with the cohort.
While there was general agreement that Inclusive Pedagogy offers many valuable tools and insights for further development, there was a concomitant realization that many teachers would not only lack the confidence to embrace such an approach, but also not necessarily see it as part of their professional read cognitive, task driven imperative.
However those teachers participating in the BBL, which is a racially and culturally diverse group, who embraced Narratology and apply it in the pedagogical approach face different responses by students, that are often forms of personalised projections on the teacher's Bodies. White teachers are often confronted by students with remarks such as "who are you to address the issue of power and race", which white teachers said make it difficult for them to respond. In the BBL group we agreed, that there are no universally correct answers for these questions, but that it was important to try to understand and reflect on each critical and sometimes painful comment.
The BBL has proven to be a great opportunity to not only support teachers, who are committed to bringing social change to the ways in which we teach but also has become an invaluable resource for us as researchers to develop strategies and methods to create more awareness of the power structures, that are reproduced in our classrooms.
As with every project we do- we never loose our humour: